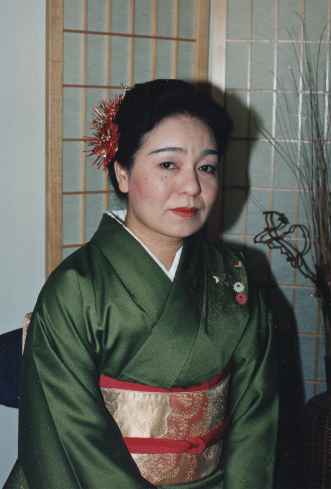 Hiromi Hashibe
Hiromi Hashibe began studying the koto at the age of five. She received her first degree from Tokyo University of Fine Arts, where she studied under Miyagi Kazue and the late Miyagi Kiyoko, who was reconized as a National Treasure. Ms. Hashibe is certified as a grand teacher by the Miyagi School of Koto. She has been teaching in Los Angeles since 1975 and is the leader of her own koto group, "Wakana-kai."

In 1993 she became part of Kokin-Gumi.

Ms. Hashibe performs in the United States as well as in Japan. Ms. Hashibe's film credits include numerous soundtracks among them, "Star Trek," "Vietname War Story" and, most recently, "Memoirs of a Geisha."


Biographies
Kokin-Gumi
Home Page
Copyright © 2002 Masakazu Yoshizawa